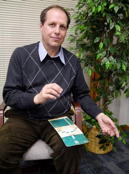 August 16th Speaker
Northern California Dowsers
Presents
"Healing with Dowsing" 
 by
Jozef Pinter, visiting guest from New Jersey
&
"Energizing Water"
45 min VIDEO with Raymond Grace
♥ Bring Water you Plan to Energize
Saturday, 16 August 2014
Meeting at Noon
NEW LOCATION:
Shasta County Library, Community Room,
1100 Parkview Ave.,  Redding,  CA 96001
Voluntary Donation: $5 suggested (not required).
Snacks & refreshments not discouraged.
Jozef Pinter's "Healing with Dowsing" will demonstrate his BioEnergy Protocol, describe techniques for using the pendulum with various charts, and explore ways to apply dowsing in making the important decisions of daily life.
Jozef was born in Slovenia, formerly a part of Yugoslavia.  Following completion of his studies in physical therapy at Ljubljana University, he discovered his gift for healing people and working with the pendulum.  He probably inherited this gift from his grandfather, who was known in his local community as a natural healer.
Jozef  has worked as an intuitive healer and dowser for 29 years.  During that time, he developed and perfected the BioEnergy Protocol, his own system for detecting blocked energy and identifying effective treatments on all levels: physical, emotional, mental and spiritual.  Jozef 's BioEnergy Protocol balances physical energy with special personal diet, determines personal vitamins and mineral levels, and other important nutrients and herbs that provide a perfect balance.  The final part of the Protocol is BioEnergy Healing that opens and balances chakras and meridians and provides special grounding energy for the physical body.
Jozef Pinter is founder of the Princeton Holistic Clinic where dowsing is integrated  into all aspects of a practice that includes the use of natural remedies, Ion Cleanse, the GEO Channelizer, Holistic Physical Therapy, Healing Circles, Food Allergies Assessment, General Nutrition, Shiatsu, and Reconnective Healing.  Jozef is an inventor and holds three US patents for his invention of the GEO Channelizer.
Jozef will also be speaking at the Mt. Shasta Dowsers inaugural meeting on Sunday Aug 17th, 1-3pm.  See Announcement Page for details.
Jozef provides healing sessions by telephone and Skype.  Jozef's contact info: 110 Straube Center, Pennington, NJ 08534, Phone: (609) 737.5700 (Eastern Time).  Email: biomegaip@netscape.net.
&
Raymond Grace's "Energizing Water"  DVD focuses on putting a container of water in front of playing video, which will energize the water.  Most importantly, putting your intentions into the water for whatever purpose you desire.  Grace's intent is to inform people how to energize water for themselves & there have been many positive reports.  For example, removing algae from a spring & pool, removing bad odor & taste from wells, people, etc.  For more info visit   www.raymongrace.us.
We're on Facebook now.  Thanks Rachel. 
Indago Felix (Fruitful Search)
 Thank you.
www.norcaldowsers.com