November 12th Meeting
Northern California Dowsers
AMERICAN SOCIETY OF DOWSERS
OUTSTANDING CHAPTER 2016
PRESENTS A DOUBLE FEATURE
"Channeling"
By Shannon James
and
"Dowsing"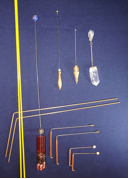 By NCD Members
Saturday, 12 November 2016
Meeting at Noon
LOCATION:
Shasta County Library, Community Room,
1100 Parkview Ave.,  Redding,  CA 96001
Suggested Donation: $5 (voluntary, not required).
Snacks & refreshments welcomed & appreciated.
"

Channeling

" By Shannon James
Psychic-medium Shannon James (Red Bluff, Calif.) will do a group reading for the dowsers. Shannon comes from a multi-generation lineage of psychics and healers, including her great, great uncle Elmer who was a practicing psychic during the Spiritualist movement at the turn of the century. Her childhood was spent being mentored by her loving mother Joy, grandmothers Elaine and Jan, and aunt Flora "auntie Flo" in the arts of astrology, psychic seeing, and how to heal with organic foods, aromatherapy, and healing touch. Shannon has been giving group and private readings of over 15 years and has many repeat clients. For more info visit Shannon's website www.shannonjamesmedium.com or call for an appointment 530.515.1837.
"Dowsing" by NCD Members
We'll share a bit of history of dowsing, what works for some people, treasure hunting, and do a consciousness experiment.
Thank you
www.norcaldowsers.com
Facebook