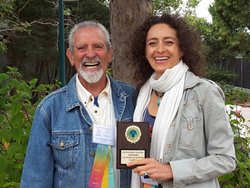 April 22nd Meeting
Northern California Dowsers
American Society of Dowsers
OUTSTANDING CHAPTER 2016
Presents
"Beginning and Advanced Dowsing"
by
 Barney, Jeannette, & Other NCD Members
    Saturday, 22 April 2017
Meeting at noon
LOCATION:
Shasta County Library, Community Room,
1100 Parkview Ave.,  Redding,  CA 96001
Suggested Donation: $5 (voluntary, not required).
Snacks & refreshments welcomed & appreciated. 
This meeting will be focused on beginning and advanced dowsing for new people, and those with more experience.  Our goal is to have a brief introduction to dowsing and then hands on dowsing techniques.  Bring questions, items or anything that we might be able to work on as a group.  It's time for another "Consciousness experiment".  Bring a pendulum, L rods, or just be ready to deviceless dowse.  Some tools will be available for those without.
Thank You
2 Comments